5 steps to laying down the ideal area rug
There are five important elements to think about prior to purchasing an area rug.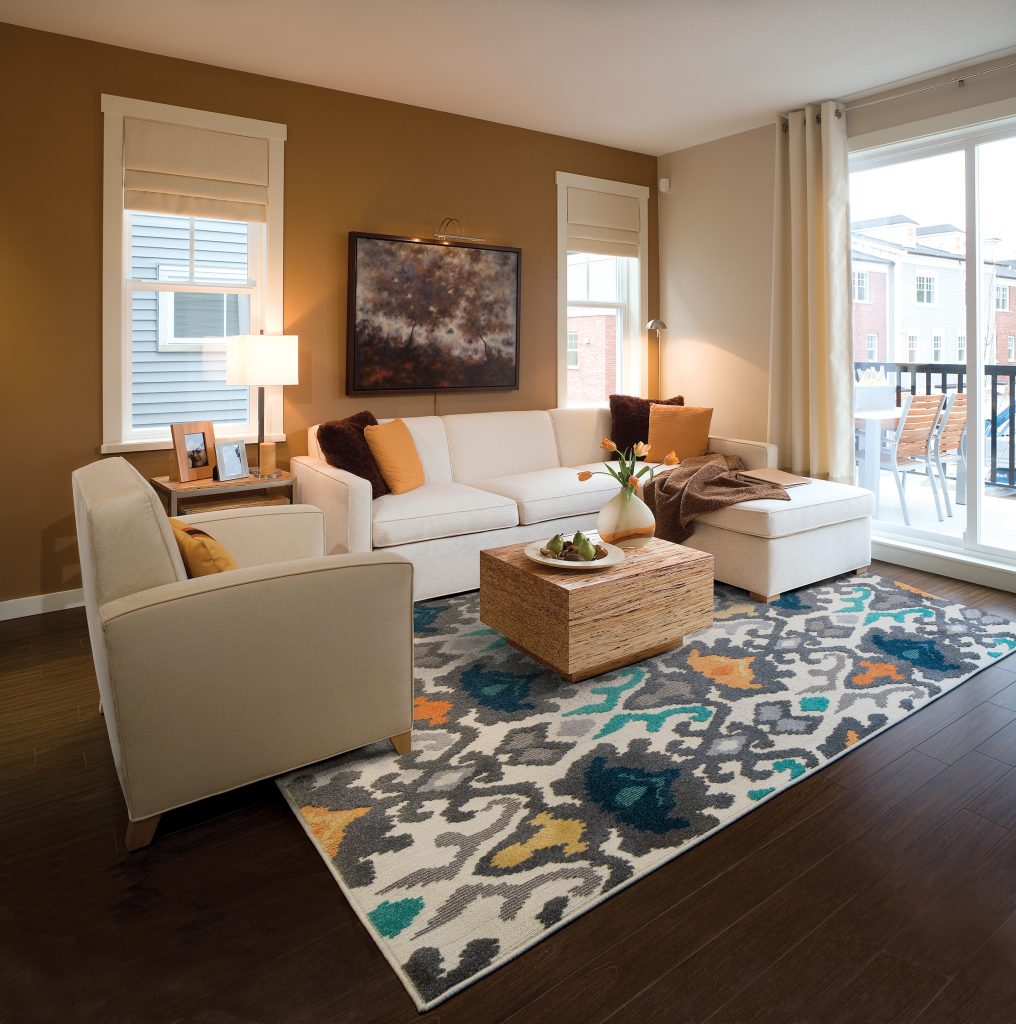 Size and shape
Area rugs are made in different sizes and in different shapes.
The most common sizes are 2'x3', 4'x6', 5'x8', 6'x9', 8'x10' and up.
Shapes are rectangle, round, square, oval, octagon or runners.
You should know that most handmade rugs are rectangular and have standard sizes.
As a general rule, choosing the correct size area rug depends on the dimensions of the room or space you are trying to cover.
Follow these guidelines to determine what size rug will best suit your needs:
Measure the size of your room. (Measure twice to be sure.)
Measure the space you want covered. (Follow advice in first bullet.)
Now place a piece of paper where each of the corners will fall; adjust the "corners" as needed to make the space larger or smaller and then re-measure the area. Be patient and careful.
If you want to cover the majority of the room, be sure to leave a 12"-15" border of flooring exposed to set off your area rug.
If you are placing an area rug under your dining room table, select a rug that is large enough so that when seated at the table the back legs of the chairs are on the rug with enough space to push back and get up from the table.
Color
Color is one of the most vital elements of an area rug, whether its machine made or handmade.
The right combination of colors, expressed through the right design, becomes more than an area rug, it becomes a work or art. Your art.
Select a rug with colors that will visually enhance your room's décor.
The colors don't have to match the other colors in the room perfectly.
Some of the best interior designs feature new and interesting combinations of colors that either contrast or compliment a room's color scheme.
So feel free to express yourself – think outside the box (room).
Colors are also an important factor in determining the origin of many handmade rugs.
Different rug producing areas use different combinations of colors and different types of dyes.
Pattern
Pattern is one of the most helpful elements in narrowing down rug selection, especially after size and color.
We define pattern as the way lines are used to form shapes on a rug.
In the rug industry, pattern is divided into three categories: curvilinear, geometric, and pictorial.
The first two refer to rugs with conventional motifs that are woven with curving lines (curvilinear) or straight lines (geometric).
The third (a much smaller group) refers to rugs that portray people and/or animals.
Style
Style can be defined as the way different motifs, colors and patterns give character to a rug.
Styles range from floral to contemporary to traditional. They can also reflect a season, or a theme (nautical, birds, water). Roll out your favorite!
The most important styles of handmade rugs that have existed, or still do exist in various parts of the world, include: Persian, Chinese, Turkoman, Caucasian, European, Anatolian, Tibetan, Indian, Baluchi, North African, Native American, and East Turkestan.
In addition, many of these styles have sub-styles.
For example, Tabriz is a sub-style of the Persian style.
Many styles or sub-styles are made in their place of origin as well as in other countries or areas.
Consider that a Tabriz style rug may be made in Tabriz but it could also be made in India. If you must know, ask your retailer.
Design
All rugs can be divided into three major designs:
All-over, in which motifs are spread throughout the rug.
Medallion, where a large centerpiece is the focal point of the design.
One-sided, in which the design is woven in one direction.
Additionally, designs can be intricate or simple, solid, or feature borders.