Denver Rug Company is the largest rug gallery in the West, offering more than 5,000 rugs, ranging from inexpensive decorative pieces to hand knotted masterpieces. Here is just a sample of the beautiful high quality rugs that we carry.
* Please note: Actual stock may vary from vendor photos throughout our website, due to our immense selection of rugs and our vendors adding/dropping collections. Please call for availability.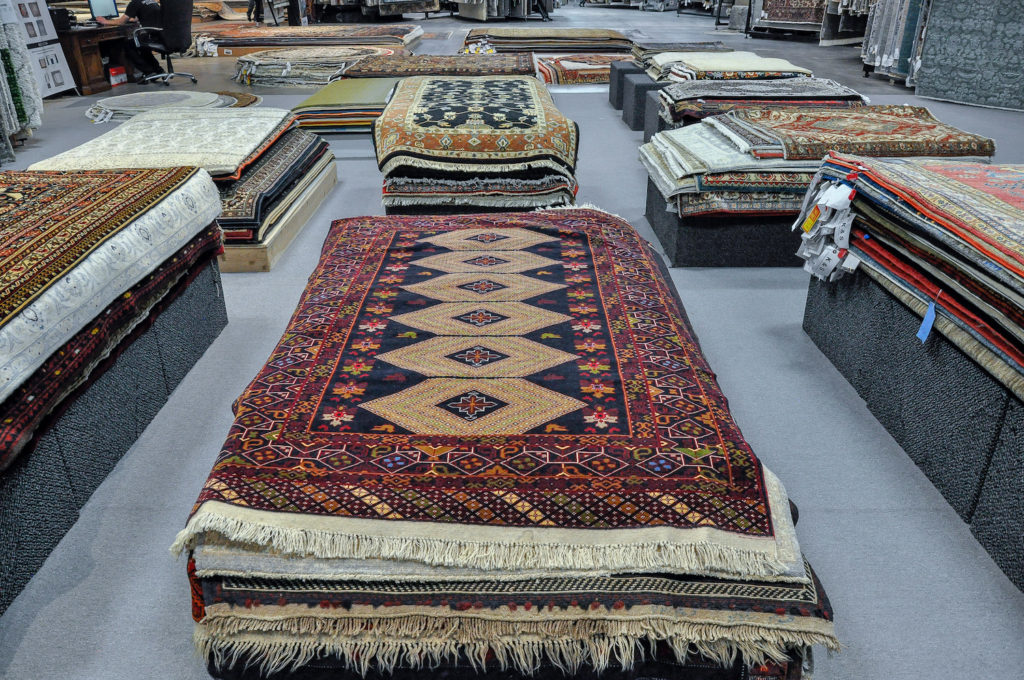 We offer various types and styles of rugs for you to choose from, and below are some general guidelines of how these types of rugs are crafted. However what one may consider a certain style might vary from another, so we invite you to come down to our showroom and decide what suits your style best!
Traditional
Traditional rugs usually have a border, medallion, or both. Many traditional rugs are woven in jewel tones. Many of these designs have been woven for centuries. While most are recently woven, we also carry semi-antique pieces from Iran, Turkey, and Afghanistan.
Contemporary
These rugs can often be wildly abstract designs with all over patterns. These rugs mainly use non-traditional colors.
Transitional
Transitional rugs often use elements of traditional designs but with updated colors or by removing some or all of the traditional patterns.
Machine Made
These rugs can vary wildly in quality using fibers such as wool, polypropylene, olefin, nylon, and recycled plastic. A powered loom weaves these in as little as an hour.
Hand Tufted
Rugs are constructed by painting the design on a canvas. This is put on a loom and then tufts of different color wool are shot through the canvas with a tufting gun. After the rug is completed, the back is painted with latex? which holds everything together. Another canvas is applied to the back, and the ends of the rug are hand sewn to complete the rug. This can take anywhere from a few days to a few months.
Hand Knotted
A hand knotted rug is a piled carpet woven on either a horizontal or vertical loom. The definition of an Oriental rug is any carpet woven by hand to the east of Europe. Hand knotted rugs are woven in Turkey, Egypt, parts of Russia, Armenia, Romania, Iran, Afghanistan, China, and Pakistan. Knotted rugs are woven by tying coloring wool in knots around a pair of warp strings. The knots are tied in rows horizontally across the rug. When one row is finished, and weft string is inserted, which helps to hold the knots in place. This process is repeated over and over until the rug is finished. At this time, the rug is cut off of the loom and the remaining warp strings are tied together and knotted, then becoming the fringe. The sides of the rug are hand sewn and then the rug is washed. A finely knotted rug can take many years to weave and will last your family many generations. Fibers used for the pile are generally wool or silk, although recently viscose or bamboo silk is being used in an effort to keep costs down. The warp and weft fibers are generally either cotton, silk, or wool.